We shared the launch of our Shopify integration in March with a look at how bots can make your Shopify store stand out from the crowd. We're back with a more in-depth look at how you can use Meya to enhance your store's customer experience.
Beyond the Walmart greeter
Shopify is one of the most open e-commerce platforms to work with. From its intuitive interface to the built-in Shopify Payments system, you can get your store up and running in a matter of hours.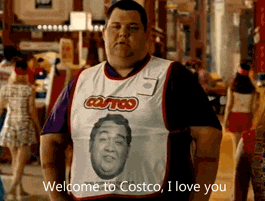 Although Shopify has a built-in chat feature, it requires a live person to respond to your customers—our Shopify integration gives your customers an automated sales associate out of the box. Let's dig into some of the key Shopify use cases for your Meya chatbot.
Everyone loves a discount
Whether they're coming to your store from an email marketing campaign or an Instagram post, once you get a customer on your store, you have precious seconds to retain their attention and get them shopping. With Meya, you can begin a conversation with the customer welcoming them to the store and offering them anything from a first-time purchase discount to let them know about current sales.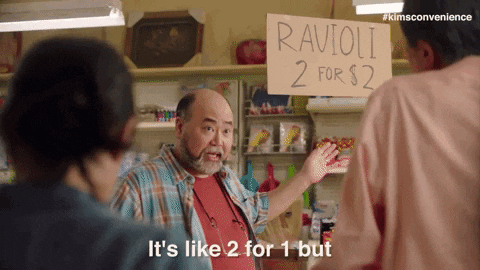 Helping your customers find more than just the right size
Get your customer to the product they're looking for using your Meya chatbot. Our Shopify integration delivers product info right in the conversation, enabling your customer to click and be taken directly to the product's detail page. You can also have your Meya chatbot automatically recommend products within the conversation to help drive the discovery of products in your store.
Speed up conversions
With Meya and Shopify, your customers can quickly add a product to their cart right from the conversation window. Promoting add to cart in the conversation removes the friction point of loading the product details page – and every tweak you can make to speed up the purchase flow can help increase that conversion rate into the double digits. Delighting your customers with an easy way to add a product to their cart is just a tiny part of what you can do with Meya. Next, let's talk about what you can do with Meya once the customer logs in to their account on your store.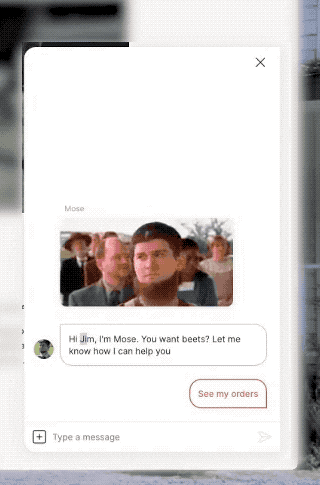 Make every customer feel like a VIP
Everything we've shown so far can be done as anonymous customers - but what about authenticated users? Don't worry, Meya's got you covered.. To make the next couple of examples work, you'll need to enable accounts on your Shopify store. We've got details on this and more in our documentation too.
Let's say you have a customer who just received their latest order, but there's an issue with the item. Your customer logs in to their account on your store, and the Meya chatbot can welcome them back with a personal message and ask about their latest order. 
From here, the customer can request a return and refund, and your Meya chatbot can process the request right in Shopify. All of your standard email communications in your Shopify store will be triggered, including return instructions, refund notification, and any other email you have configured.
The same integration can be used to let your customers:
Cancel an order that is being processed
Ask the customer to write a review of the product
Request more information on the order, such as a shipping status
Your Meya chatbot can also provide shipping information to your customer. Simply prompt the customer to enter their shipping address, and your Meya chatbot can respond with an estimated shipping cost. This is an excellent place in the conversation to offer a discount on the order or the shipping to help close the sale.
Getting started with Meya and Shopify
Our Shopify integration is available with all our plans – from Pro to Enterprise. Check out our documentation page for more information, or message us today to set up a demo!